To celebrate the launch of new Astra Electric, Vauxhall partnered with British artist Iain Macarthur to commission two murals in London and Manchester. They are available to the public throughout August, and showcase Vauxhall's pledge to be an electric-only brand from 2028.
To celebrate the recent launch of the Vauxhall Astra Electric, Vauxhall partnered with British artist Iain Macarthur, who has created two eye-catching murals in London and Manchester. Displayed until 27th August, the murals encapsulate Vauxhall's ambition to be at the cutting edge of design and artistic expression, and the collaboration with Iain Macarthur highlights their commitment to British design influences.
The murals, on display in Shoreditch, London, and in the Northern Quarter in Manchester, put Macarthur's unique surrealist style on full display, conveying a vibrancy and dynamism which reflect both the high performance and the Bold and Pure design language of the Astra Electric. It is this design philosophy which won a coveted Product Design award for the Astra at the prestigious Red Dot Award international design competition earlier this year.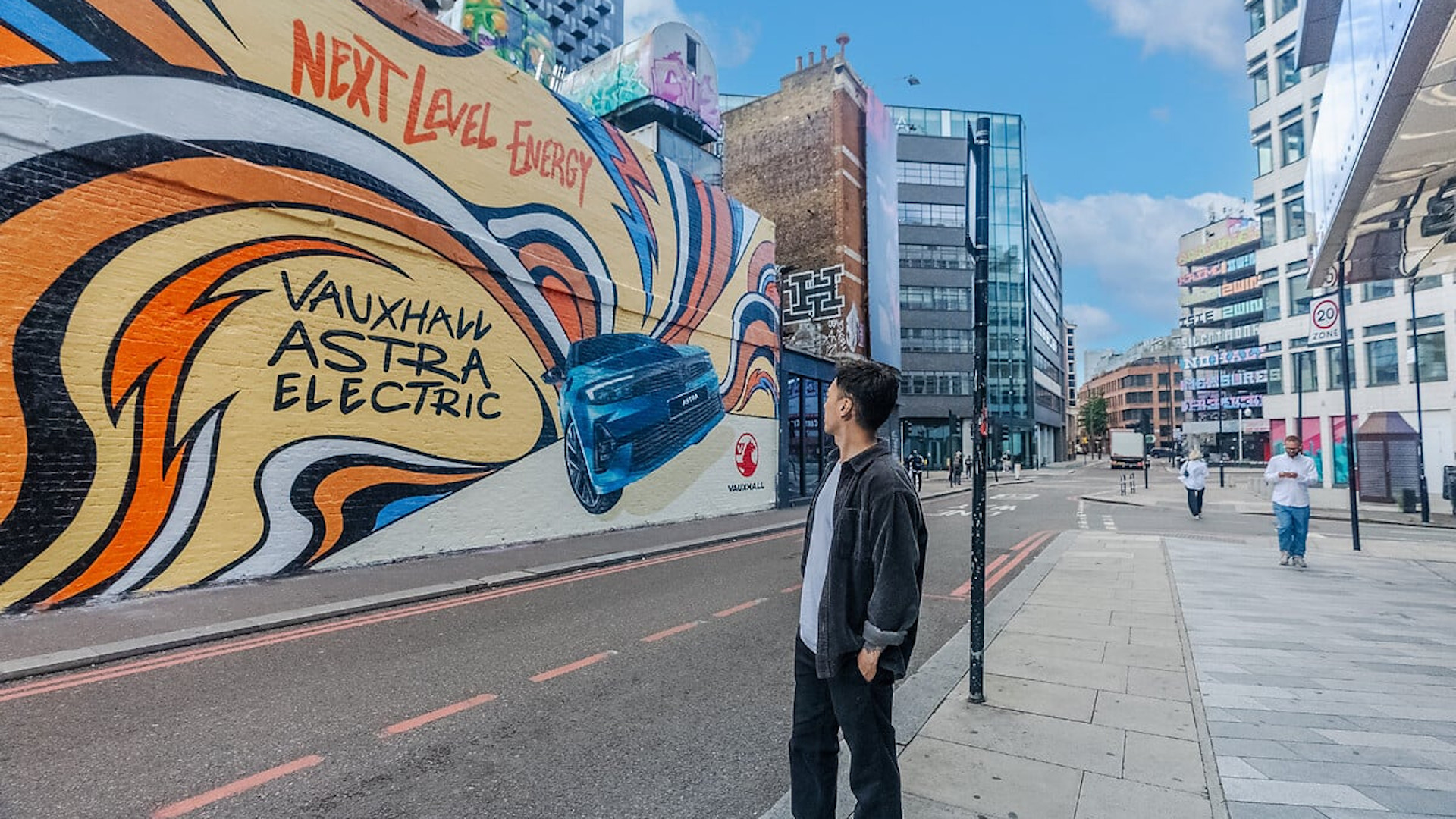 Iain Macarthur, said: "I wanted to show the energy of the Astra by making the patterns look like they are made of electricity – having them flow throughout the design in a way that is visually striking and aligned to Vauxhall's bold and pure design language. It was a pleasure collaborating with Vauxhall, as they gave me creative freedom to express my vision of what clean energy would look like."
By partnering with such an innovative British artist and displaying the murals in these iconic locations in the vibrant hearts of two British cities, Vauxhall celebrates its long-standing connection to British design and heritage.
The Vauxhall Astra Electric features a next-generation 54kWh battery and a 115kW (156hp) electric motor and is capable of reaching up to 258 miles of range (WLTP) from a single charge. By 2024, all Vauxhall cars and vans will be available with a fully-electric counterpart, and by 2028 Vauxhall will be an electric-only brand.
James Taylor, Managing Director, Vauxhall, said: "This mural celebrates not only the launch of the exciting Astra Electric, but also our Bold and Pure design language which draws from the best of British art and innovation. I look forward to seeing Iain's work in person and thank him for being part of creating something the public can enjoy in London and Manchester."